Обзор фотокамеры Canon IXUS 110 IS
Canon IXUS 110 IS — типичная ультракомпактная камера. Это означает максимум автоматических возможностей, опрятный внешний вид и малые габариты, что позволяет всегда носить фотоаппарат с собой в кармане. Камера закована в металлический корпус, внешне напоминающий титан, однако раз об этом не было никаких заметок от производителя, следовательно в качестве материала использован алюминий.
Технические характеристики:
• 1/2,3″ CCD-сенсор (5,9 x 4,4 мм), 12,0 Мп;
• процессор DIGIC 4 с технологией iSAPS и Motion Detection;
• 4x зум-объектив Canon Lens 2,8—5,8 мм (28—112 мм в 35-миллиметровом эквиваленте) с оптической стабилизацией;
• 4х цифровой зум;
• разрешение фотографий: (L) 4000 x 3000, (M1) 3264 x 2448, (M2) 2592 x 1944, (M3) 1600 x 1200, (S) 640 x 480, (W) 4000 x 2248; уменьшение размера при просмотре (M3, S, 320 x 240);
• видео со звуком: (HD) 1280 x 720, 30 кадров/с, (L) 640 x 480, 30 кадров/с, (M) 320 x 240, 30 кадров/с;
• AiAF (технология распознавания лиц / 9-точечная автофокусировка), 1-точечная автофокусировка (с фиксированным центром или на выбранное лицо);
• дисплей TFT LCD PureColor II с диагональю 2,8 дюйма, 230 000 пикселей, соотношение сторон 16:9;
• дистанции фокусировки: 2 см (макрорежим) — бесконечность;
• экспозамер: оценочный замер (по рамке автофокусировки функции распознавания лиц), центрально-взвешенный интегральный замер, точечный замер (по центральной точке);
• коррекция экспозиции: от –2 до +2 EV, шаг 1/3 EV;
• светочувствительность ISO: 80, 100, 200, 400, 800, 1600, AUTO;
• электронно-механический затвор;
• диапазон выдержек: 1/1600—15 c (выдержки длительностью более 1 с предусмотрены только в режиме длительной выдержки);
• встроенная вспышка: авто, принудительное включение / выключение, медленная синхронизация, коррекция эффекта красных глаз, фиксация экспозиции при съемке со вспышкой;
• радиус действия вспышки: 0,30—4,0 м (широкий угол) / 0,30—2,0 м (длинный конец зума);
• баланс белого: автоматический, 6 предустановок, ручной;
• режимы съемки: автоматический, программная автоэкспозиция, портрет, ночная съемка, дети и животные, закат, съемка в помещении, фейерверк, длинная выдержка, пляж, подводная съемка, аквариум, деревья, снег, ISO 3200, цифровая макросъемка, режим акцентирования цветом, режим замены цвета, режим съемки панорам, видеосъемка;
• эффекты: функция «Мои цвета» (My Colors), отключены, живые цвета, нейтральный, сепия, черно-белый, позитивная пленка, осветление тона кожи, затемнение тона кожи, ярко-синий, ярко-зеленый, ярко-красный, пользовательский;
• способы съемки: покадровая, непрерывная, автоспуск, FaceSelf-Timer;
• непрерывная съемка: прибл. 0,8 кадра/c до полного заполнения карты памяти;
• высокоскоростной порт USB 2.0 (Mini-B, MTP, PTP);
• аудио-/видеовыход (PAL / NTSC);
• HDMI;
• поддержка карт памяти: SD, SDHC, MMC, MMC plus, HC MMC plus до 32 ГБ;
• форматы файлов: JPEG (Exif 2.2, 3 степени сжатия), AVI (Motion JPEG) со звуком (WAV);
• 27 языков меню (присутствуют русский и украинский);
• габариты: 97,9 x 54,1 x 22,1 мм;
• масса без батарей и карты памяти: 145 г.
Комплект поставки:
• камера Canon Digital IXUS 110 IS;
• Li-ion-аккумулятор NB-4L (760 мАч);
• зарядное устройство;
• карта памяти SD 32MB;
• резинка для ношения на запястье;
• AV-кабель, USB-кабель для подключения к ПК;
• руководство пользователя на русском языке;
• диск с программным обеспечением.
Внешний вид
Спереди камеры расположены традиционный яркий светодиод подсветки автофокусировки (выступающий так же, как индикатор таймера обратного отсчета), обрамляющее объектив металлическое кольцо и тоненькая полоска вспышки. Габариты вспышки (уж очень она маленькая) изначально заставили усомниться в ее мощности. На практике так и оказалось: вспышка весьма слабая и способна удовлетворительно освещать сцены на расстоянии не больше метра.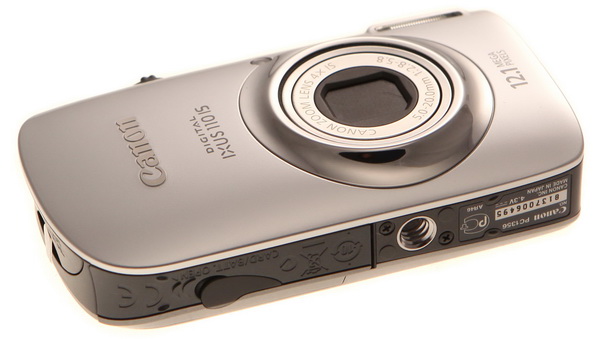 В дизайне IXUS 110 IS можно найти множество плавных линий. Углы устройства сглажены, а задняя сторона отдаленно напоминает КПК Palm старых версий. Данная камера позиционируется в первую очередь как стильный гаджет с возможностью HD-видеосъемки, ну и, разумеется, как фотоаппарат, который не стыдно показать и использовать с друзьями во время совместных увеселений.

Камера стабильно стоит в горизонтальной и вертикальной ориентации, на корпусе имеются миниатюрные ножки. Сделано это для удобства съемки в режимах таймера. Кстати, в фотоаппарате есть режим съемки с задержкой, причем снимок делается после того, как камера распознает в поле кадра новое лицо (т. е. лицо фотографа, который поставил камеру и захотел сфотографироваться самостоятельно).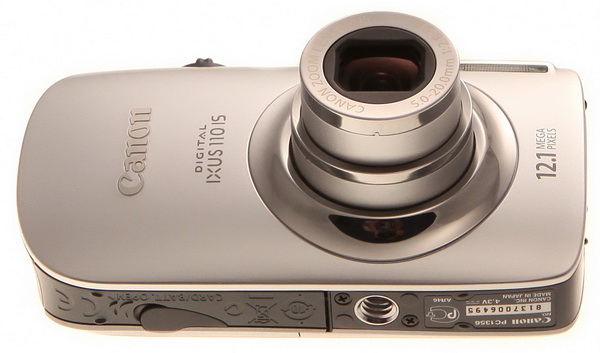 Всю тыльную сторону устройства занимает 2,8-дюймовый ЖК-дисплей с разрешением 230 000 пикселей и отношением сторон 16:9. Он утоплен в корпус, а синеватая поверхность недвусмысленно намекает на антибликовое покрытие. Отображаемая на экране информация прекрасно видна под всеми углами, в том числе на солнце. Оптический видоискатель в камере отсутствует, отчасти из-за этого она довольно компактна.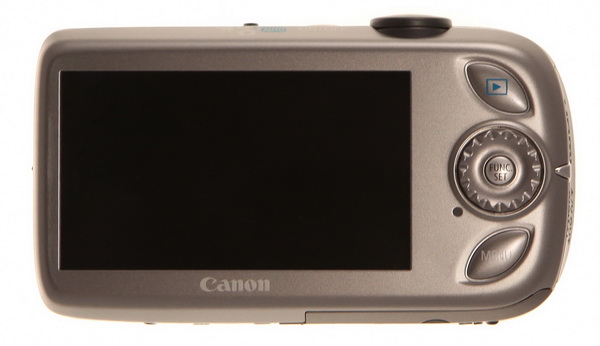 Модуль управления представляет собой две кнопки MENU и PLAY плюс пятипозиционный джойстик с кнопкой SET в центре, сопряженный со скроллерным кольцом. Ход кольца тугой, что исключает прокручивание при нажатии на кнопки джойстика. Кстати, функции данных кнопок не подписаны, однако камера чувствует касания пальца в этих областях. Если, например, ваш палец расположен на кнопке «Вправо», фотоаппарат отобразит на мониторе виртуальный джойстик и подсветит функцию (в данном случае это настройки вспышки).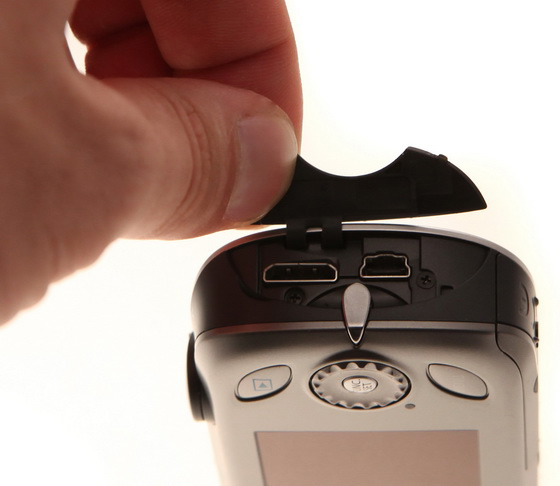 Камера поддерживает карты памяти MMC и SD, включая карты повышенной емкости. Слот для карт памяти размещен там же, где и батарейный отсек под Li-ion-аккумулятор емкостью 760 мАч. Модель без особых проблем делает на одной зарядке 220-240 снимков. Это неплохой показатель.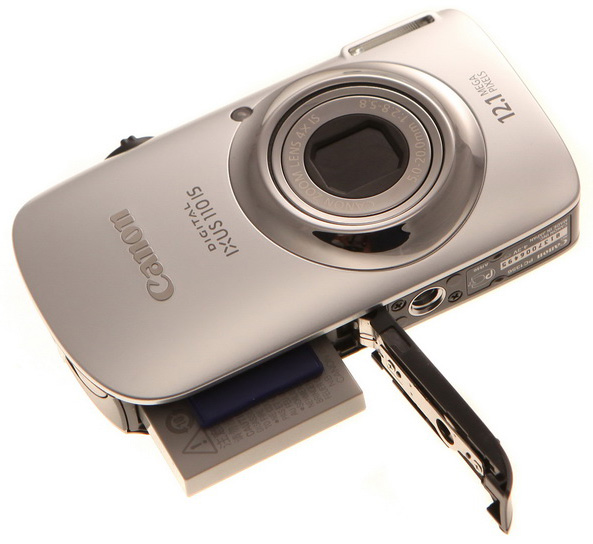 При впечатляюще малых габаритах IXUS 110 IS оснащена 4x зум-объективом. Включение камеры быстрое: выдвижение объектива в широкоугольное положение занимает чуть больше секунды, после чего фотоаппарат полностью готов к съемке.
Согласно последней редакции премиум-сегмента камер Canon, в них всех имеется обновленный графический интерфейс, пришедший на смену давно зарекомендовавшему себя стандартному меню компании. Конечно, удобство пользования слегка «просело»: теперь процесс выставления нужного значения ISO займет немного больше времени. Однако интерфейс стал гораздо более интересным внешне, с необычными эффектами переходов при прокрутке пунктов меню и ускорения при прокрутке фотографий.
В отличие от предыдущих моделей, на дисплее IXUS 110 IS одновременно может отображаться до 130 снимков, а также 48, 16 и уже привычные 9, 4 и 1. Кроме того, доступна детальная информация по снимку с увеличением части кадра.
В меню можно выбрать отображение увеличенного участка сработавшей зоны фокусировки, что позволяет мгновенно оценить резкость и интенсивность шумов на снимке. В случае захвата компактом лиц людей, увеличенными участками отобразятся именно лица.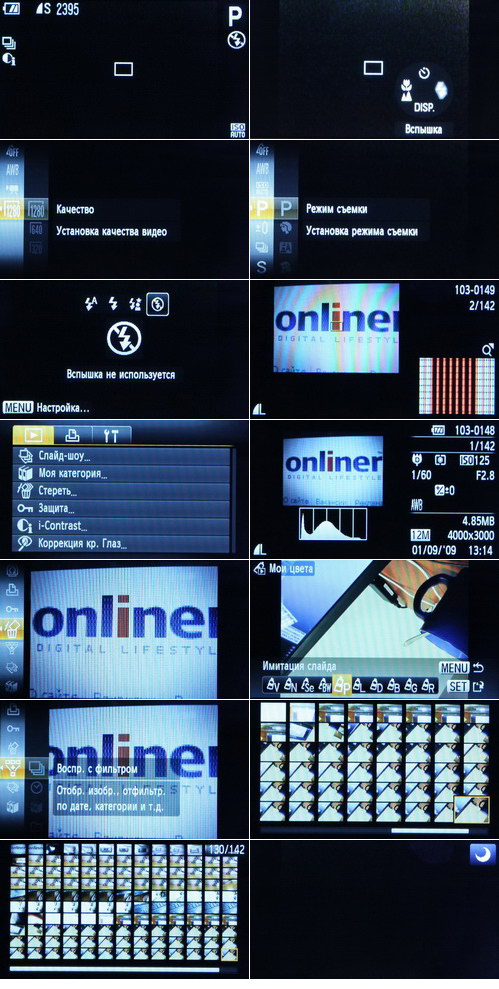 Ручными настройками камера не располагает, зато предлагает продвинутый авторежим. В нем фотоаппарат уверенно переходит, если это нужно, в режим макросъемки (к примеру, расстояние от объектива до снимаемого объекта составляет менее 15 см) и запускает режим заката, когда это действительно закат. В принципе, этого достаточно, хотя режимы фейерверка и снега, к сожалению, в подобных случаях не запускались.
Фотограф может проявить самостоятельность в режиме программной автоэкспозиции (P) или же выбрать сюжетную программу, которая лучше всего подходит для текущих условий.
Автоматический режим, режимы видеосъемки и сюжетных программ переключаются на верхнем торце камеры посредством триггера.
Фотоаппарат дает возможность просматривать снимки в формате JPEG не только собственного «производства», но и от других камер.
Для неопытных пользователей в IXUS 110 IS предусмотрены такие функции, как распознавание движения в кадре, распознавание моргания и i-Contrast (делает темные и даже выбитые в черный цвет участки светлее).
Тестовые снимки
Что касается качества снимков, самого важного параметра, то модель оставила двойственное впечатление. С одной стороны, радует качество HD-видеороликов, скорость работы, уверенная автоматика баланса белого и экспозиции. А с другой — в том же ряду камер IXUS можно без особых проблем найти фотоаппарат с лучшей детализацией, но за меньшие деньги (модели IXUS 80 IS — 95 IS).
Резкость снимков незначительно падает по краям кадра, что при малых физических размерах объектива и разрешении в 12 Мп является очень хорошим результатом. Цветопередача нам понравилась, цвета получаются естественные и чистые.
С шумами все по-старому. После ISO 400 цвета становятся блеклыми, на темных участках появляется сине-красно-коричневая каша, хотя детализация почти не пропадает, а значит, снимки можно спасти, переведя их в монохромный вариант.
Canon Digital IXUS 1000 HS
компактная фотокамера
матрица 10.6 мегапикселов (1/2.3″)
съемка видео разрешением до 1920×1080
10-кратное оптическое увеличение
экран 3″
вес камеры без аккумулятора 190 г
режим макросъемки
Средний рейтинг Canon Digital IXUS 1000 HS — 3,69
Всего известно о 13 отзывах о Canon Digital IXUS 1000 HS
Ищете положительные и негативные отзывы о Canon Digital IXUS 1000 HS?
Из 11 источников мы собрали 13 отрицательных, негативных и положительных отзывов.
Мы покажем все достоинства и недостатки Canon Digital IXUS 1000 HS выявленные при использовании пользователями. Мы ничего не скрываем и размещаем все положительные и отрицательные честные отзывы покупателей о Canon Digital IXUS 1000 HS, а также предлагаем альтернативные товары аналоги. А стоит ли покупать — решение только за Вами!
Самые выгодные предложения по Canon Digital IXUS 1000 HS
Отзывы про Canon Digital IXUS 1000 HS
Достоинства:
Нормальная функциональная и достаточно стильная японская мыльница. Приобреталась как дополнение к зеркалке в походных условиях. Для мыльницы достаточно сложна в управлении: много функций, ручной режим. Для того чтобы получить хорошие снимки, нужно достаточно поколдовать с камерой и изучить настройки. Но это и интересно! Можно снимать и просто в авто-режиме, но тогда иногда могут случиться и неважные результаты.
Недостатки:
Слабый акку,- здесь нужно прикупить запасной и нет проблем. Может быть и пластиковое гнездо для штатива, но это не столь существенно.
Комментарий:
В целом не разочарован приобретением за малую цену плюс — японская сборка, что немаловажно. Остальное, что может быть волнует чересчур вьедливых пользователей, не столь важно: привык всегда обрабатывать полученные изображения на компе.
Достоинства:
размер, металический корпус, прекрасная работы автофокуса в условиях отсутствия освещения как в фото, так и в видео режиме, FullHD очень приемлимого качества. супер мыльница.
Недостатки:
долгое включение, небольшая емкость аккумулятора, нет возможности внимать в RAW. огромный вес видео на максимальных настройках качества.
Комментарий:
использую как вторую камеру (основная Canon 40D) для постоянный носки в кармане. качество фото — мыльница но кто хочет получить хорошее качество — вперед за зеркалками. хотел получить от нее хорошее видео в компактном корпусе — удовлетворен на 100%. посмотрим как она будет дальше себя вести.
Достоинства:
замечательный фотоаппарат, отлично снимает фото и видео, красивый дизайн, цена приемлема (покупал за 215$)удобное, понятное меню — быстро фотографирует. стабилизатор работает классно — зум четкий и ясный, номер автомобиля на расстоянии невооруженным глазом не видно, а с фотоаппарата четко и ясно
Недостатки:
аккумулятор долго не держит, на следующий день сразу же купил второй! теперь вроде нормально — нет диктофона (еще их называют аудиокоментариями к фото)
Комментарий:
покупайте! не пожалеете — выберите в интернет-магазине по самой недорогой цене и вперед! не забудьте купить дополнительный аккумулятор, лучше не оригинальный — они чуть-чуть дольше держат заряд!) на оригинальном аккумуляторе пишет 3.5V, а на не оригинальных эта цифра может быть чуть-чуть больше (на моем 3.7V) — не бойтесь фотоаппарат работает до 4.3V! ничего не сгорит и не сломается)
Недостатки:
Дохлый аккумулятор, выставляет большие ISО в авторежиме(даже слишком большие), фото приемлемого качества получаются через раз(как он решил настроиться-так и получиться), ощутимый вес, завышенная цена, ремешок на руку не фиксируется.
Комментарий:
Красная цена ему 11500(и то пока новинка). Сравниваю со своим прежним Canon IXUS 970 IS, фото у 970 получались куда лучше, четкие и детальные и очень мало размытых, у этого все наоборот(похоже фотоаппарат живет своей жизнью). Я разочарован, не скажу, что сильно, но разочарован. PS. Прошел месяц использования. Опять сравниваю с 970. Если 970 разрядился на отдыхе в Турции на 10 день(в последний день отдыха, зарядку мы с собой не брали), то 1000HS за 1,5 дня в домашних условиях, а заряженный — на морозе(-10) замигал через 15 мин своим индикатором(мол разрядилась батарея), правда вернувшись домой появились два деления индикатора(видать отогрелся япошка). На автомате 1000HS вспышка срабатывает как когда(когда она нужна ее не дождешься, а когда нет-«не ждали, а вот и я». На автомате ISO выставляет 800,1000,1600-раз плюнуть! В результате в автоматическом режиме очень много размытых, шумных и затемненных фотографий. Пришлось перейти в(на) ручной режим, чтобы добиться того, что делал 970 на автомате. И зачем нам такой IXUS? Для чего создавали эту линейку фотоаппаратов, а для того, чтобы люди имели стильные, тонкие и умеющие хорошо снимать в автоматическом режиме фотоаппараты и не напрягали мозги по поводу баланса белого, выдержки и диафрагмы. Похоже Canon этой моделью приучает людей к миру фотографии, что тоже полезно для культурного роста человека. По поводу видео пока сказать ничего не могу, особо не пользовался им. Кому нужен FULL HD может тот и рад, но мне нужен Canon, который бы радовал, а не огорчал. Canon IXUS 1000HS — технологий много, толку мало.
Достоинства:
Камера очень хорошая! Снимает видео Full HD.
Использую 1 месяц.
Недостатки:
Слабый аккумулятор (хватает на 130 снимков)
Достоинства:
Дизайн если только
Недостатки:
1) плохой аккумулятор
2) ужасное качество изображений даже при хорошей освещенности
3) плохой автофокус(медленный очень)
Комментарий:
Не знаю, кто тут пишет, что качество изображений отличное:) покупал его, как только он вышел, так как старый IXUS 960(вроде бы) украли. Доверился Canon, тк прошлый IXUS очень понравился, снимал прекрасно. Этот же аппарат — сплошное разочарование!
Не советую никому, просто потратите свои деньги.
Достоинства:
Отличная камера, только заметно переоценена в России. ISO до 3200, в темноте действительно снимает лучше других мыльниц. Поддержка Full HD.
Недостатки:
Основной недостаток — ценовой диапазон, в результате все пытаются сравнить этот фотоаппарат с моделями более высокого класса. А это — маленькая мыльница с минимум настроек, работающая по принципу увидел-достал-снял, цена которой — 10000 рублей.
Комментарий:
Интересно, кто и зачем наставил фотоаппарату пятерок?
Светосила 3,5 — слабая
Размер матрицы 1/2.3″ — никакой
Фотографий сделанных этим фотоаппаратом никто не видел. В Яндекс фотках во всяком случае, их нет, также как и на подобных ресурсах.
Достоинства:
думал что есть.
компактная. был IXUS 950, так фотки лучше получались. Взял IXUS 1000 HS с мыслью, что как минимум не хуже, да за такие деньги.
Недостатки:
зарядки аккума хватило на 100 фотографий (2/3 без вспышки), поставил снимать видео 1920*1080 через 9мин 59сек запись остановилась и появился значок разряженного аккума. с такой батарейкой флешку в 16гигабайт трудно будет забить в один заход.
с максимальным разрешением ролик весит 2,45Гб
снимками в помещении остался недоволен.
видео — да, картинка большая но качество у неё уровня телефона Nokia N96.
Комментарий:
пока разочарован. за более чем 14т. р очень посредственный аппарат. кроме дизайна пока ничего не радует.
IXUS 950 в своё время и стоил почти вполовину дешевле и эмоции были другие.
Достоинства:
Стильный дизайн, миниатюрные размеры, металлический корпус, прекрасные фотографии и видео даже в условиях отсутствия освещения, качественная оптика, отличная для мыльницы светосила, интуитивно понятное меню, хорошая цветопередача.
Комментарий:
Прекрасный фотоаппарат для девушки. Для мужчин будет мелковат.
Достоинства:
Фотографии нормального качества, ночью фотографирует хорошо по сравнению с другими мыльницами, быстрое переключения в меню. Много разнообразных режимов съемки, видео в HD 1080 на 1920 в отличном качестве при свете, звук неочень.
Недостатки:
Маленькая емкость аккумулятора, некоторые фотографии получаются размыто в автоматическом режиме.
Комментарий:
Вобщем то моделька нормальная для мыльницы, фотографии сделанные этим фотоаппаратом в автоматическом режиме можно посмотреть здесь и оценить качество на максимальных параметрах //fotki. yandex. ru/users/sashai9/album/137610/
Достоинства:
1. Меньше шума,
2. Энергоэкономномичность. и литьевый аккумулятор.
3 Универсальный зумм.
4 Большой экран
5 Возможность ручных настроек.
6 Видео 720 р
7 Маленькая Цена на данный момент.
Недостатки:
Не очень большая емкость Аккумулятора.
Комментарий:
Как всегда выбирал оптимальное соотношение размер матрицы на Мегапиксель. для размера матрицы 1\23 (1\25 меньше чем 1\23) самым маленьким значением было 10Мп (что в 4 раза с запасом перекрывает FullHD) при минимально возможном соотношение размер на мегапиксель. Как результат размер пикселя больше и меньше шума (фиолетовый снег по всему снимку) в тяжелых условиях съемки. К тому же в матрица не аналоговый модуль ССD а более экономичный и (с приходом обратной засветки) малошумящии сенсор. Сравни Сanon PS 3000 у которого исо 200 предел работы для 10мп то на Ixus 1000 приемлемым значением можно считать 400 исо. Объектив просто радость. Порадовал экран с соотношением сторон 16 на 9. Применение металла в корпусе, Наличие стабилизатора, HDMI. По функционалу мне этот фотоаппарат напомнил перерождение легендарного S2. К большему сожалению как всегда при выходе цена на данный аппарат быа необоснованно завышена но через 2 года его можно взять за 5500 тыс руб. Почему все таки стоит брать отдельный фото а не брать смартфон. Причиной тому физика. как не крути физический размер матрицы и оптика под нее требуют размера корпуса как у мыльницы и не один смартфон не сможет обеспечить такого уровня качества отдельного пикселя как любая мыльница. итогом получается детальные но в тоже время не глубокие снимки.
Комментарий:
Посмотрел я тут фотки с него, любезно преедоставленные Sashai9 (Спасибо ему за это. //fotki. yandex. ru/users/sashai9/album/137610/)
Это кошмар какой-то!
Фото из окна днем: дома слева наклонены влево, дома справа — вправо. Откуда на фокусном расстоянии экв. 36мм такие искажения?! Даже широкоуголки не дают такой дисторсии.
Фото кота: очень шумное изображение, но для 800ISO результат хорош.
Фото ночью: ну то что при 1600ISO шумов на снимке больше, чем картинки — для мыльницы ожидаемо. Вопрос зачем разработчики его сделали (на такой-то матрице), и почему автофокус не выбрад режим 200-400ISO с экспозицией 2 сек (одной сек для светосилы этого объектива будет мало)?
Фото кактуса: Фото с наивысшей четкостью из представленных. ОТКУДА на 160ISO такие нехилые шумы? Почему на ближнем конце у объектива такая маленькая глубина резкости (горшок в фокусе, но на кактусе уже начинается неболшая размытость)?
Резюме: кэнон слил топовую модель серии IXUS. При всем моем уважении к фирме, ставить на топовую модель такую маленькую матрицу(1/2,3″) и объектив с такой слабой светосилой (от F3.4), и при этом драть за это 15 тыр.
Лучше обратите внимание на модели IXUS 300 HS, PowerShot S95 / G12.
Cameralabs Camera reviews, lens reviews, photography guides
Summary
Buy it now!
Canon IXUS 1000 HS / PowerShot SD4500 IS

24th June 2011
Written by Gordon Laing
Intro
Canon's IXUS 1000 HS (or PowerShot SD4500 IS Digital ELPH as it's known in North America) is a 10 Megapixel compact with a 10x optically-stabilised zoom and 3in widescreen display. Announced in August 2010 to celebrate the 10th anniversary of the IXUS brand, it claimed the title of the World's slimmest super-zoom camera at just 22mm thick.
The IXUS 1000 HS / SD4500 IS also follows the IXUS 300 HS / SD4000 IS to become the second camera to feature Canon's High Sensitivity system, or HS for short. These feature back-illuminated CMOS sensors which claim superior low-light capabilities. Both the IXUS 1000 HS / SD4500 IS and IXUS 300 HS / SD4000 IS employ the same 10 Megapixel CMOS sensor – this may be lower than the resolution of many new compacts, but in turn allows each camera to claim greater sensitivity and lower noise.
The CMOS technology also supports fast data access, which in turn allows quick continuous shooting: the IXUS 1000 HS / SD4500 IS enjoys fairly swift 3.7fps shooting at the full 10 Megapixel resolution, or 8.8fps at 2.5 Megapixels until your card is full. The IXUS 1000 HS / SD4500 IS may share the same sensor as the IXUS 300 HS / SD4000 IS before it, but the newer model also boasts 1080p Full HD video recording compared to 720p on the earlier one. Completing the package are a super slow motion video mode and a new Handheld Night Scene which combines a burst of shots to reduce noise at high sensitivities.
Looking at the specifications in a little more detail, the headline 10x zoom offers an equivalent range of 36-360mm. This may not be as wide or bright as the 28mm f2.0 boasted by the IXUS 300 HS / SD4000 IS when zoomed-out, but the newer model can zoom over three times closer, giving it telephoto capabilities the other can only dream of.
The movie mode is particularly impressive, being one of Canon's first compacts to boast 1080p Full HD video at 24fps – and thanks to the CMOS sensor, the camera avoids the vertical streaking seen on many CCD-based models. Video is accompanied by stereo sound and you can also optically adjust the zoom while filming. Further leveraging the speed of the sensor is the Super Slow Motion mode which captures video at 240fps, eight times faster than normal. When played back at 30fps, these videos slow the action by eight times. While the resolution in this mode is a modest 320×240 pixels, the ability to analyse fast action in slow motion is a fun addition for the camera.
As an IXUS / ELPH, you can expect a fully automatic mode with scene detection, but the IXUS 1000 HS / SD4500 IS sports an additional option not found on any previous Canon compact: a new Handheld Night Scene mode. Inspired by Sony's Handheld Twilight mode, this captures several images in a quick burst before automatically combining them into a single image in an attempt to smooth out noise without reducing detail.
Like other recent Canon compacts, there's also face, smile and wink self-timers, along with fisheye and miniature effects. Rounding-off the package is a 3in widescreen display, ideal for framing HD movies, and an HDMI port for connecting to HDTVs.
In February 2011, Canon announced five new HS-designated models, each featuring a new 12 Megapixel CMOS sensor. One is an updated version of the original IXUS 300 HS / SD4000 IS, while two are pocket super-zooms with 14x ranges, but neither of these are as small or affordable as the IXUS 1000 HS / SD4500 IS. As such, this model remains in the current range and in our full review we'll see how it measures-up.
Canon IXUS 1000 HS / PowerShot SD4500 IS design and build quality
Measuring 101x59x22.3mm and weighing 190g including battery and memory card, the IXUS 1000 HS / SD4500 IS confirms its claim of being the slimmest super-zoom compact around. Impressively it's actually 1.3mm thinner than the IXUS 300 HS / SD4000 IS, albeit 5mm taller and 15g heavier – not bad though considering the lens range is roughly three times longer. It's also comfortably smaller than Panasonic's travel-zoom, the Lumix TZ20 / ZS10, which measures 105x58x33.4mm and weighs 219g with battery and card, although that model does pack-in a wider and longer 16x optical range and a GPS receiver. The bottom line though is the IXUS 1000 HS / SD4500 IS is one of the slimmest and lightest cameras you'll find with a 10x zoom.

Like other Canon IXUS / ELPH compacts, the build quality is superb. The metal body has smooth joins and nicely rounded edges which never catch. The smooth front surface has no grip to speak of, but the cross-hatched Canon logo provides surprising purchase for your right middle finger, while your thumb presses against two small ridges on the rear; the combination allows a pretty secure hold even when one-handed, although there's also plenty of room for your left hand to provide further stability without obscuring the lens, flash or screen.
Depending on your region, the IXUS 1000 HS / SD4500 IS is available in silver, pink or brown finishes. At the time of writing there was no underwater housing available for this model from Canon itself, but Ikelite offers one that's good to depths of 60m or 200 feet.
Support this site by
shopping below

Like the IXUS 300 HS / SD4000 IS before it, the IXUS 1000 HS / SD4500 IS employs a simple control system with the minimum of buttons, not to mention labelling. There's no physical mode dial, only a three way-switch on the top surface to set the camera between Movie, Shooting and Auto. Alongside this is a small power button and the shutter release with a rotary zoom collar.

The rear surface is dominated by the 3in widescreen display (more of which later), with a single control wheel, and three buttons: one above the wheel and two below. The upper button is new to the IXUS 1000 HS / SD4500 IS over its predecessor and dedicated to recording video, while the lower pair enter playback or the main menu system. Meanwhile, the control wheel is unlabelled beyond a small Func Set button in the middle. Unlike many earlier Canon compacts which employed control wheels with smooth, stepless motion, the one here is stepped, which provides useful feedback on how far you've turned it.

At first the absence of labelling around the wheel seems a little unapproachable, but before long it makes sense. The control wheel doubles-up as a traditional four-way joypad, with the function of each direction displayed for a couple of seconds after power-up. If you don't remember them, a gentle push on the edge of the wheel at any time while shooting will reveal the graphical guide again. In the Shooting mode, pushing left sets the focusing range, pushing up sets the self-timer, pushing right sets the flash options, while pushing down cycles between the display views. Pushing the central Func Set button confirms an action or fires-up the super-imposed menu system for adjusting other common settings. We'll detail all the options later in the review. In the meantime though, anyone familiar with the earlier IXUS 300 HS / SD4000 IS will note pushing the dial up on that model entered the exposure compensation settings, which on the new model are now accessed via the Fn menu.

The lower button on the rear is dedicated to playback, which you can also enter from power-off by pressing and holding; a half-press of the shutter release exits playback and gets the camera ready for shooting. When you enter playback, a graphical guide to the control wheel's direction buttons briefly appears – just like when shooting – but annoyingly (and inconsistently) this won't reappear with a gentle lean on the edges. To be fair, the controls during playback are pretty simple: pressing the wheel left or right scrolls through images, while pushing down again cycles through the display options. Spinning the wheel allows you to quickly scroll through images.

A flap covering on the right side of the body can be pulled back to reveal standard mini HDMI and mini USB / AV ports. Canon supplies separate USB and AV cables for use with the latter port, but as usual, you'll need to supply your own HDMI cable for connecting to HD displays.

In order to accommodate the longer lens range in a small body, Canon's housed the battery and memory card slot in separate compartments on opposite sides of the body. The IXUS 1000 HS / SD4500 IS is now powered by an NB-9L Lithium Ion battery, a small and almost tubular pack rated at 870mAh and good for around 150 shots under CIPA conditions. This is noticeably fewer than the 250 shots you'd get from the IXUS 300 HS / SD4000 IS or 260 shots from the Panasonic Lumix TZ20 / ZS10.

In use we really did notice the battery depleting on the IXUS 1000 HS / SD4500 IS, and it wasn't uncommon to find it only lasting for a day of fairly heavy continuous shooting or movie filming. Clearly the modest battery life is the compromise you'll need to accept when going for a camera which squeezes a relatively big lens into a relatively small and light body. Bottom line: carry a spare. Note: the battery pack can be switched for the optional ACK-DC70 AC adapter kit for mains operation.

In terms of memory, the IXUS 1000 HS / SD4500 IS unsurprisingly uses the SD format, and like most modern compacts, supports the latest SDXC standard for cards bigger than 32GB; wireless Eye-Fi cards are also supported. Like other Canon compacts, there's no built-in memory, so you'll need to fit a card before you can take any photos or video. Canon recommends cards rated as Class 6 or faster to smoothly support the HD video.

As mentioned above, the SD slot is housed in its own compartment under the right side of the camera (as you hold it for use). The tripod thread is pressed up against the battery compartment on the other side of the base, so if your tripod head or plate is sufficiently small, you may be able to access the card door when mounted.

Canon IXUS 1000 HS / PowerShot SD4500 IS lens and stabilisation

The Canon IXUS 1000 HS / SD4500 IS is equipped with a 10x optical zoom that's equivalent to 36-360mm, with a focal ratio of f3.4-5.6. While lacking true wide angle coverage of 28mm or lower, the IXUS 1000 HS / SD4500 IS enjoys considerable reach for a camera of its size – indeed at the time it was launched, the IXUS 1000 HS / SD4500 IS was the slimmest camera with a super-zoom range. You can see an example of its coverage below, and further examples of how you can use it in our sample images Gallery.

6.3-63mm at 6.3mm (36mm equivalent)
6.3-63mm at 63mm (360mm equivalent)
The lens is the main difference between the IXUS 1000 HS / SD4500 IS and its predecessor the IXUS 300 HS / SD4000 IS. The earlier model was equipped with a shorter 3.8x range, albeit starting wider at an equivalent of 28-105mm. The wider coverage is certainly useful when you're faced with big group shots, large buildings, expansive landscapes or situations when you can't step back any further, but it's hard not to be tempted by a zoom which gets around three and a half times closer to distant subjects.
The earlier IXUS 300 HS / SD4000 IS however enjoys the additional advantage of a brighter than average focal ratio of f2.0-5.3. This gives the camera greater light gathering power than typical compacts – at least when zoomed-out to wide-angle anyway. With both the IXUS 1000 HS / SD4500 IS and IXUS 300 HS / SD4000 IS zoomed-out to their widest coverage, the latter enjoys a 1.5 stop advantage, gathering almost three times as much light. So at f2, you could use a shutter speed of 1/30, compared to 1/10 at f3.5, or you could fix the shutter speed and enjoy 100 ISO at f2 compared to 300 ISO at f3.5.
In these real-life terms, it's clear how the small difference in f-numbers can make a big difference to low light performance, and it's this along with the 28mm wide-angle coverage which the IXUS 300 HS / SD4000 IS enjoys over the IXUS 1000 HS / SD4500 IS. Once again though, the latter zooms much closer, and it's important to note when both cameras are zoomed-in, they actually share roughly the same light gathering power.
So in the world of the IXUS HS series, you have to weigh-up a long 10x range which lacks wide angle coverage and a bright aperture against a shorter 3.8x range which includes wide angle coverage and a bright aperture (at least when zoomed-out).
Before moving on though, it's important to note there are a number of super-zoom compacts which offer wider coverage if you're willing to carry a body that's thicker than the IXUS 1000 HS / SD4500 IS. Panasonic's TZ20 / ZS10 packs a 16x (24-384mm equivalent) range into a shell that's about the same size from the front, but 50% thicker and 39g heavier.
The IXUS 1000 HS / SD4500 IS isn't the quickest camera to startup, taking about two and a half seconds to extend its lens and display a live image, and around the same to switch off again. As described earlier, the zoom is operated by a rotary collar with the camera offering over 50 steps between wide and telephoto – this gives it finer steps over many Canon models.
Despite Canon choosing to drop the IS label from the IXUS brand in 2010, the IXUS 1000 HS definitely features Image Stabilisation; interestingly the identical North American SD4500 IS version still has the IS label to reassure its customers, although the latest 2011 models in the HS series now also drop the IS label in favour for HS. Branding aside, the IXUS 1000 HS / SD4500 IS offers the same three stabilisation modes as most Canon compacts: Continuous where the system operates all the time, Shoot Only which only applies stabilisation as you take the photo, and Panning which only stabilises in the vertical axis for when you're moving the camera horizontally as you take the photo – for an example of using the latter, see the Blurring Action tutorial at our sister site, DSLR Tips. You can also switch off stabilisation for use on tripods.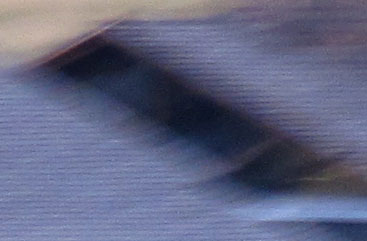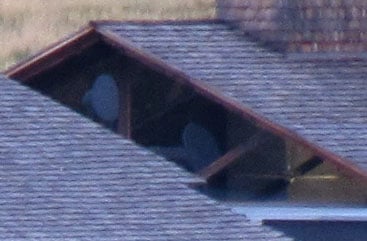 Above are examples taken with and without the default Continuous stabilisation using the IXUS 1000 HS / SD4500 IS fully zoomed-into its maximum equivalent of 360mm, and at a shutter speed of 1/25. Traditional photographic advice would recommend a shutter speed of at least 1/360 to eliminate camera shake at this focal length, but the stabilised IXUS 1000 HS / SD4500 IS allowed us to capture sharp handheld shots at 1/25, which corresponds to almost four stops of compensation – an impressive capability.
Canon IXUS 1000 HS / PowerShot SD4500 IS screen and menus
The Canon IXUS 1000 HS / SD4500 IS is equipped with the same 3in / 230k widescreen (16:9) display as its predecessor. Like that model, it's an interesting choice as while it's a perfect fit when filming (or playing) HD movies, normal photos at the best quality setting will occupy a smaller portion in the middle of the screen, with thick black bars running down either side.
Canon may not waste this space, using it to display shooting icons with less obstruction of the main image, but there's no getting away from the fact photos shot in the native 4:3 aspect ratio of the sensor will only measure 2.4in on their diagonal, which looks a lot smaller than the conventionally-shaped 3in screens of rival models.
The flip-side though is having HD movies filling the screen, whereas on normal displays you'll have black bars running above and below. As such, widescreen movies are displayed much larger on the Canon than they are on models with 4:3 shaped screens. You can also choose to take stills in a cropped 16:9 mode, which may have a lower vertical resolution, but will fill the screen, and of course this mode will also be the perfect fit for slideshows on widescreen TVs. As soon as you zoom-into an image during playback, it'll also fill the screen, regardless of its original shape.
Ultimately there'll always be a compromise with the screen when a camera can capture images and video with significantly different shapes – if you choose a screen which fits one type, then there'll be black bars with the other. If your priority is shooting HD video, you'll definitely prefer having a widescreen monitor, but if you mostly shoot stills, you'll probably prefer a camera with a more conventionally-shaped 4:3 shaped screen, like one of its rivals or another model in Canon's range.
As for the quality of the screen itself, it's bright and colourful, but susceptible to reflections from direct bright light – with the Sun behind you, it can become hard to see, but that's par for the course for most displays. As for detail, the IXUS 1000 HS / SD4500's screen employs a fairly average 230k resolution, using a stretched 320×240 grid. When shooting in the narrower 4:3 shape, you're only using three quarters of those pixels for the image. So not only is the picture relatively small at 2.4in when shooting in the best quality mode, but it's comparatively coarse too with just 172k pixels devoted to the active image. If the IXUS 1000 HS / SD4500 IS was a cheaper model, this would be acceptable, but for its premium price you'd hope for something a bit better. A higher resolution screen may not make any difference to the recorded quality, but their sharper details on-screen make images in composition and playback look much nicer, while also allowing smoother-looking menu fonts.
Speaking of menus, we'll now move onto the on-screen information. While shooting photos with the IXUS 1000 HS / SD4500 IS, there's just two display views: one with a clean image, and the other with shooting information. A three-by-three grid can be enabled for both views in the menus, but sadly there's no live histogram, a feature you'll find on much of the competition at this price.
Regardless of whether you're shooting 4:3 or 16:9 stills on the IXUS 1000 HS / SD4500 IS, a variety of shooting icons are displayed down the left and right sides of the screen; if shooting in 4:3, these occupy the black bars, and if shooting in 16:9, they're simply super-imposed over the image. On the left side the IXUS 1000 HS / SD4500 IS displays icons for the battery life, camera orientation (automatically adjusting settings for portrait aspects), white balance, My Colours, i-Contrast, drive mode, shake warning and metering mode. On the right side are icons for the shooting mode, flash setting, red-eye correction, date embedding setting, and the ISO sensitivity.
While many of these icons only appear when you change a setting from its default, there's certainly the potential for a lot of information running down either side of the screen. That said, 4:3-shaped images will still have some details super-imposed, including the image quality, shots remaining, and exposure settings.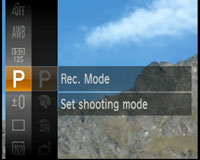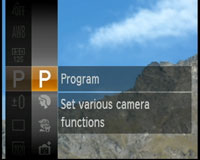 In terms of on-screen controls, the IXUS 1000 HS / SD4500 IS employs a similar superimposed Function menu to other recent Canon compacts. It's the latest design which upon pressing the FUNC / SET button presents a vertical list of options running down the left hand side of the screen. This list scrolls up and down with the available options popping-out to the right in another vertically scrolling list. As before, if 'Hints and Tips' are enabled in the main menus, you'll be given a brief message helpfully describing what it'll do, although you can turn this off altogether if preferred.
It's a nice touch, although some explanations could go further for beginners – for example switch the White Balance to Tungsten and the IXUS 1000 HS / SD4500 IS will say "For Shooting under Tungsten Lighting". Well, sure, that much is obvious, but perhaps giving an example like "For Shooting under Tungsten Lighting, such as indoor lamps" might be more useful. Likewise, choosing 1600 ISO will simply say "Set ISO to 1600" when it could elaborate and suggest it might be good for low light conditions. As Canon keeps this system unchanged, it's beginning to fall behind the help offered on some rivals.
The actual settings on offer vary according to the shooting mode, but in Program it lets you adjust the metering, My Colours options, White Balance, Sensitivity, Recording Mode, Exposure Compensation, Drive Mode, Movie Quality, Image resolution and Image compression.
The various menus and settings are navigated using a thumb wheel which also rocks in four directions to double-up as left, right, up and down buttons. As mentioned above, we're pleased to report the wheel on the IXUS 1000 HS / SD4500 IS features stepped feedback allowing you to know exactly how much you've turned it, as oppose to some earlier Canon compacts which are completely smooth. It's also now easier to grip, although as discussed in the design section above, Canon's chosen not to label the up, down, left and right rocker functions. Instead a gentle lean in any of these directions during shooting mode displays an on-screen guide indicating what a full push will achieve. It's a nice solution which allows context-sensitive details, but sadly during playback, the guide only appears briefly before then leaving you in the dark as to which button will delete an image. No amount of gentle leaning during playback will bring the guide icons back again.

During playback, the DISP button cycles between a clean view and ones with basic or detailed shooting information, the latter including a brightness histogram. An additional page in playback shows a thumbnail of the image alongside an enlarged portion showing the active focus area. If the photo was taken with Face Detection, then the enlargement will show the primary subject's face, allowing you to quickly check their expression and confirm the focus. You can also zoom-in further on the detail if desired, or switch between other focus points – it's a handy feature in practice. Turning the camera to the side will also rotate the image by 90 degrees to always remain upright – handy for filling the screen with a portrait aspect shot. Even the thumbnail view on the histogram page rotates as you turn the camera. Bizarrely this sensible feature isn't widely implemented by the competition.

The thumb wheel on the back can also be used to quickly scroll through thumbnails during playback, using a interface first seen on the PowerShot G11 and S90 which optionally varies the thumbnail size depending on the speed at which you turn the wheel. Turn it slowly and the thumbnails pass by one at a time, automatically expanding to fill the screen. Turn it quickly and you'll see a line of smaller thumbnails, and pressing Set will fill the screen with the one you settle-on. It's a fun way to navigate the images.

Pressing the Menu button while in playback presents a number of options for adjusting images including a red-eye correction mode. This uses face detection to frame the eyes of the subjects on your photos. You can then choose which frames to apply correction to and also whether you'd like the result to overwrite the original or create a new file.

Canon IXUS 1000 HS / SD4500 IS exposure modes

The Canon IXUS 1000 HS / SD4500 IS may only have a simple three-way switch on the top to choose between movies, shooting or auto, but the middle of these three options unlocks a wealth of additional modes selected on-screen using the Func / Set menu. We'll detail them and further exposure options in turn.

With the top switch set to Auto, the camera attempts to identify the subject and configure itself appropriately. Like other recent Canon compacts, the IXUS 1000 HS / SD4500 IS doesn't just recognise people, landscape or close-up shots, but also the lighting conditions for each, differentiating between bright conditions, blue skies or night-time, and whether the subject is backlit or not. In each instance, the exposure and flash are adjusted accordingly, and the camera will even attempt to recognise a Sunset and boost the colours.

The IXUS 1000 HS / SD4500 IS can also detect whether the person is in motion and whether the camera's mounted on a tripod. In the case of the latter, the camera will automatically unlock longer exposures which wouldn't normally be handheld successfully. The actual conditions or subject recognised by the camera is indicated by an icon in the top left corner, which you'll see adjust as you recompose. You'll need to check the manual to confirm what each icon means though, for example those taken under normal, blue or dark skies feature grey, blue or dark blue icons respectively, while backlit situations have a Sun in the corner.

Or rather than learning the icons and second-guessing the camera, you could simply relax and trust the IXUS 1000 HS / SD4500 IS as like other recent Canon compacts it does a pretty good job of recognising the scene and choosing the best settings for it. In practice, the camera seamlessly switches between portrait mode with face detection when pointed at a person, or into macro mode when placed close to a subject. It's also interesting to watch the change of icons in the corner of the screen as the camera detects different lighting conditions, although Canon admits pointing it at a blue or orange wall can fool the camera into thinking it's either a glorious day or a spectacular sunset. That said, it's as good a system as any of the competition and one we'd be happy to trust for most day-to-day shots. We certainly rarely had a dud in terms of focus and exposure.

In most situations, the Auto mode selected larger apertures with fast shutter speeds, generally varying the sensitivity between 125 and 500 ISO. It wasn't averse to boosting the sensitivity to 800 ISO under dimmer conditions to avoid camera shake, or even using 400-800 ISO with the flash. Note the automatic ND filter of the earlier IXUS 300 HS / SD4000 IS is absent here.

To access the other modes, flick the switch on top of the camera to the middle 'Shooting' position, then choose from no fewer than 21 options using the on-screen Function menu. Top of the list is Program, but unlike the IXUS 300 HS / SD4000 IS, there no Aperture and Shutter Priority options. This is a shame for enthusiasts, but to be fair there's not a great deal of control over depth-of-field on most compacts equipped with Aperture Priority (especially those without bright apertures), and the target audience of these models are unlikely to even use the Priority modes at all.

Like other recent Canon compacts, the remaining 20 modes are an eclectic selection of scene presets, special effects, burst options and timers. Nestled amongst the portrait, beach, fireworks and other traditional presets you'll find Stitch Assistance (from left to right or right to left), Canon's Colour Swap and Colour Accent, the Low Light and 8.8fps High Speed Burst modes (both operating at 2.5 Megapixels at up to 6400 ISO), and two special effects filters which simulate fish eye and tilt / shift lenses.

Strangely the mode menu is also where you'll find the Smart Shutter options which trigger the shutter after detecting a new face, a smile or a wink. Surely it would be more sensible to find these in the self-time or drive section, but there you go. In protest, we'll detail them in that section below.

For now though, here's two images taken from the same position showing the Fisheye and Miniature filter effects using their default settings; it's possible to vary the strength of the fisheye distortion along with adjusting the position of the band of focus in the Miniature mode.

Fisheye preset: 6.3-63mm at 6.3mm (36mm equivalent)
Miniature preset: 6.3-63mm at 11mm (63mm equivalent)

The IXUS 1000 HS / SD4500 IS may not share the Aperture and Shutter Priority modes of its predecessor, but it does feature two new modes inspired by rival manufacturers: Best Image Selection echo's Nikon's Best Shot Selector by firing a burst (of five 2.5 Megapixel images) and only recording the best result (based on sharpness, blinking etc), while Handheld Night Scene borrow's from Sony's Handheld Twilight mode by combining multiple full-resolution images into one to reduce shake and noise.

The latter is particularly exciting. There's little technical information in the manual, but by analysing audio recordings of it in action we believe it takes four images (compared to six on the Sony) before combining them into one. Like Sony's Handheld Twilight mode, it's completely automatic, with auto exposure and auto ISO. Judging from the results, it looks like it can effectively reduce noise at high ISOs and to show it in a variety of conditions we've dedicated a whole results page to it. We've got a quick preview below, but for full details, see our Canon IXUS 1000 HS / SD4500 IS Handheld Night Scene results page.

100% crop, f4, 1/25, 800 ISO
100% crop, f4, 1/25, 800 ISO

The IXUS 1000 HS / SD4500 IS also offers automatic dynamic range adjustments using its i-Contrast feature (disabled by default). i-Contrast automatically boosts shadow areas or faces darkened by strongly backlit scenes. To put it to the test we took two photos of a Church interior with and without i-Contrast set to its Auto option. This composition features dark shadow areas and strong window lighting which represents a challenge for any camera's exposure system.
The example above shows i-Contrast selecting a fractionally shorter exposure when enabled, and while there's no detail retrieved in the saturated windows, the darker areas such as the roof, flooring and benches have certainly received a boost.

The histograms below each image give a better idea of what's going on, with a more gentle slope to the shadow values and a boost in upper mid-tones, albeit still with clipping in the highlights. Like other systems which boost shadow areas, there's inevitably an increase in visible noise as a result.

Finally, the IXUS 1000 HS / SD4500 IS's Date Stamp option allows the time, date or both to be permanently written in the corner of the image. Such digital mutilation may horrify many photographers, especially considering the date and time are always present in the EXIF data of the file itself, but we've heard from sufficient numbers of people who want the feature to know it's something of value.

Canon IXUS 1000 HS / SD4500 IS focusing and face detection

When set to Auto, the Canon IXUS 1000 HS / SD4500 IS employs the company's Face AiAF system. This defaults to a nine-area system, but seamlessly switches to Face Detection should a human subject be detected. Like other recent Canon compacts, this works well in practice and ensures you never have to worry about manually selecting Face Detection – and once it locks onto a face, the camera easily tracks it even to almost complete profile.

Set the camera to Program though and you only have the choice of Face Detect or Centre. Annoyingly there's no nine-area option, nor the ability for the camera to automatically switch between it and Face Detection depending on the subject. If you're set to Face Detect and there's no human subjects present, the camera defaults to a single fixed centre area AF mode. So in Program the AF may be more controllable, but ultimately less sophisticated than the Auto mode. Strangely the earlier IXUS 300 HS / SD4000 IS offered the more useful choice of Face AiAF or Centre in Program mode, giving you the flexibility of control or automatic selection.

On the upside though, autofocus remains pretty quick on the IXUS 1000 HS / SD4500 IS and we suffered from very few focusing errors during our tests, even at more demanding longer focal lengths. Like other DIGIC 4 models, the IXUS 1000 HS / SD4500 IS also offers a Servo AF mode which tracks a subject while the shutter release is half-pressed. In use this proved effective when photographing approaching Jetboats in our Gallery section, although it didn't seem quite so confident with smaller objects at very close range; the Focus Tracking option on Panasonic's Lumix compacts feels more confident in this regard. There's no manual focus option on the IXUS 1000 HS / SD4500 IS.

Like other recent Canon compacts there's also Blink Detection which can warn you when it believes a subject has blinked in a photo. Both this and face detection are exploited in numerous self-timer options we'll detail later which can trigger the countdown with the presence of a new face or a wink from an existing one.

Canon IXUS 1000 HS / SD4500 IS Movie Mode

Support this site by
shopping below

The Canon IXUS 1000 HS / SD4500 IS offers a variety of movie modes with stereo sound, including a new Full HD 1080p option which was absent on its predecessor. When set to Standard in the menu, you can choose between 320×240, 640×480, 1280×720, or 1920×1080 pixels, and you have the additional choice of applying Canon's Colour Swap or Colour Accent modes for special effects. The new Full HD 1920×1080 mode is recorded at 24fps, while the others are recorded at 30fps.

Unusually for a Canon compact you can actually adjust the optical zoom while filming, and thanks to the CMOS sensor, the vertical streaking seen on CCD models is also avoided. The widescreen display is filled by video when shooting or playing back HD video.

Like most Canon models which employ DIGIC 4, the IXUS 1000 HS / SD4500 IS compresses its video using the modern H.264 format and encodes stereo audio as Linear PCM at 16 bit / 44.1KHz, then stores the result in a QuickTime MOV wrapper. The maximum recording time is 10 minutes per clip in 720p / 1080p HD or one hour in the lower resolution modes – or when the file reaches 4GB in size. In the 720p and 1080p modes, you'll hit the ten minute mark with a file measuring around 2GB and 3GB respectively, and Canon recommends using SD cards rated as Class 6 or faster.

In addition to Standard, Colour Accent and Colour Swap modes, the IXUS 1000 HS / SD4500 IS offers additional Super Slow Motion and Miniature Effect options; we'll discuss these in more detail below. But now for our HD movie samples, recorded using the best quality 1080p / 24fps mode, and which as always can be downloaded by registered members of Vimeo; we use VLC Player to watch Canon's MOV clips under Windows.

The video below shows a slow handheld pan with an optical zoom at the end. The first thing to notice is the absence of vertical streaking on the rippling water – this is avoided thanks to the use of a CMOS sensor, although there are some interesting star-shaped effects. Models which use CCD sensors can suffer from streaking in areas of saturated highlights, like sunlight reflecting on rippling water, or a backlit window in a dark room. Towards the end of the clip you'll see a demonstration of the optical zoom range, and while the zooming process isn't completely linear in speed (nor is it far from silent), we're still pleased to find it offered on a Canon compact. The AF system in this example loses focus as the camera zooms-in, but manages to recover shortly after stopping.

Canon IXUS 1000 HS / SD4500 IS sample video 1: outdoors, sunny conditions, handheld panning with zoom

Below is a second HD sample, again handheld at wide-angle, but this time in low light conditions. There's quite noticeable noise, but on the upside you'll again notice the absence of vertical streaking around the outside window towards the end of the clip – on models with CCD sensors, there's often quite visible streaking there.

Canon IXUS 1000 HS / SD4500 IS sample video 2: indoors, dim conditions, handheld panning

Next up comes a clip filmed under bright light from a tripod to illustrate a best-case scenario.




источники:

http://otziv-otziv.ru/katalog/fotoapparaty/fotoapparaty-canon/otzyvy-canon-digital-ixus-1000-hs.html

http://www.cameralabs.com/canon_powershot_sd4500_is_ixus_1000_hs/